Mike: My job has been a little easier so far this week with the reduced number of layoff announcements, which may be an indication that there's a slowdown in layoff activity, at least in the short-term.




These's plenty of retail economic news out there today and it's a very mixed bag. I'll let the people in the know give you their impressions. I'll stay away from the main stream media outlets, since they merely skew everything to a point where I can't trust most of their analyses:
Retail Sales Continue to be Weak
via Retail Sales Continue to be Weak – RetailSails — Seeking Alpha.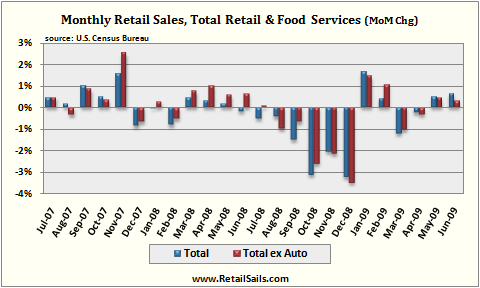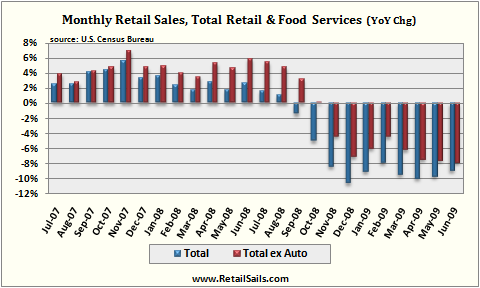 From Bloomberg:
July 14 (Bloomberg) — Sales at U.S. retailers rose in June, helped by incentives at car dealers and higher gasoline prices that boosted service-station receipts.
Good, right?
Not so fast:
Purchases excluding automobiles and gasoline dropped for a fourth consecutive month
via More Media Misdirection: Retail Sales – The Market Ticker.
Mike: I had to dump this news at the top since it made my blood boil when reading it. Here you have a company so connected to Washington, (Geithner, Paulson, Rubin, etc.) that it cannot fail, but it cannot be stopped from screwing the American taxpayer. They grab $10 billion in TARP funds, get preferential treatment with regard to AIG and then have the gall to pay out up to $900,000 in bonuses PER person. If this doesn't make you angry enough to contact your congressional rep, than nothing will and these taxpayer beatings will continue to happen at your expense. These companies have no ethics, morals, humanity, decency or empathy. They exist for greed and greed alone. You, the taxpayer, are their peon and will remain a peon until you demand to be treated as an equal. Here's where you and I can vent that anger: Contact your congressional representative
The investment bank Goldman Sachs delivered a clear signal that the good times are returning on Wall Street by milking a recovery in financial markets to generate profits of $3.44bn (£2.12bn), raising the prospect of average pay packages of as much as $900,000 for its employees.
Goldman's success has generated its fair share of detractors. Critics point out that the bank was the biggest counterparty in financial insurance policies to the insurer AIG and that its collateral calls contributed to the US company's collapse, requiring AIG to seek $150bn of government aid.
Furthermore, Goldman itself received $10bn from the US government's troubled asset relief fund, which it paid back last month to avoid any further caps on dividends or remuneration. The firm converted to a 'bank holding company' last year, allowing it to take retail deposits, as the business model of a standalone Wall Street bank came under threat.
via Goldman Sachs staff set for bumper bonuses as bank earns $38m per day | Business | guardian.co.uk .
"I believe Tim Geithner only represents part of Wall Street – Goldman Sachs," he says, suggesting Goldman was the "primary beneficiary of the AIG bailout" and notes Goldman alum Stephen Friedman serves on the board of the NY Fed. (Hank Paulson and Robert Rubin, with whom Geithner had frequent meetings in the past year, are also Goldman alum.)
via Tim Geithner Too Close to Goldman Sachs to Be Treasury Secretary Critic Says: Tech Ticker, Yahoo! Finance.
-Max Keiser: "Does the US Secretary of the Treasury work for the people or does he work for the banking system on Wall Street?"
– Larger layoff announcements and important economic reports:
– Microsoft/Google/IBM and other Rumors & News –
Mike: Remember the headlines from a couple months ago about the dangers of H1N1? Well, it's still out there and still causing problems.
– HYDERABAD: Google India has had to shut down one of its offices in Hyderabad after one of the employees was confirmed to be suffering from the H1N1 flu virus.
– Gov. Arnold Schwarzenegger is prepared to cut another 2,000 jobs from the general fund, state officials told state employee union and exempt employee association leaders in a conference call this morning. The cuts could be part of a deal that must close the state's $26.3 billion fiscal gap, which widens by $25 million each day lawmakers fail to enact a budget.
– CALGARY – Thirty City of Calgary employees in development and building approvals received layoff notices Monday, a result of declining permit revenues and a sign of the city's struggle to balance its books in a tightening economy.
– US and some Canada Layoff News –
-Oscient has cut 280 of its 305 jobs this year as part of an effort to preserve cash and reduce debt. In February, it eliminated 100 jobs, and in June, it cut its 150-person sales force and 30 other positions.
– Finding out the Dixon plant will close this fall. A decision that will wipe out 211 jobs when the economy is down and out. Workers expect that the plant will close for good in early October. They'll receive a severance package and retraining opportunities.
– The center-right government announced it would slash the number of employees in its central administrative staff by 1,145 people, or 30 percent, by the start of 2010. In addition, the number of state agencies will be reduced from 73 to 36.
– MORE than 70 workers at a Stockport sportswear firm, which sponsors a number of UK rugby teams, have been made redundant after it fell into administration.
– Hiring News and News You Can Use–
– If you haven't already heard, Twitter is a great resource for making the job search a bit easier. Jobs are actually delivered to you, thus reducing a lot of the legwork on your part. TweetMyJobs.com is just another applicatio built on top of the Twitter application.
Tags: cut jobs, job loss, jobs cut, laid off, layoffs, plant closing, staff cuts